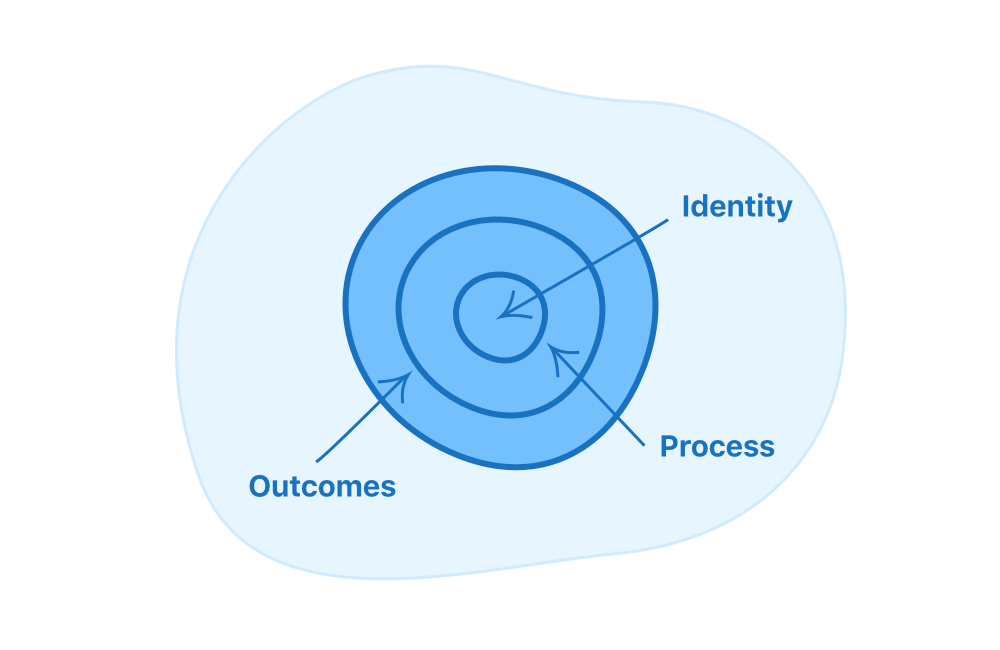 Your habits shape your identity and vice versa
Behavioral change can be divided into 3 layers. You can have a change in your outcomes, what you get, a change in your process, what you do, and a change in your identity, what you believe. The most durable type of behavioral change is a change to your identity. Most people make the mistake of trying to change what they get or what they do when who they are is what they should focus on. Change your identity and your habits will change with it. It also goes the other way, though. Make a change with what you do for a long enough time, and it will become a part of your identity.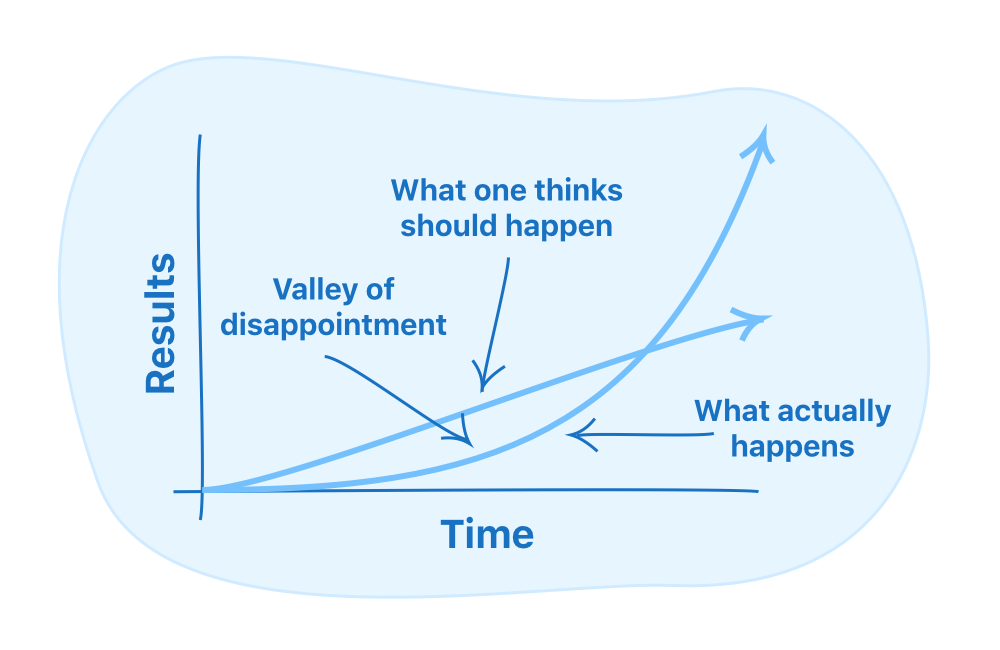 Focus on systems - not goals
When people look to make a change in their life, they tend to focus on the change they want to achieve, the goal, and often forget about the system that will lead to that goal. This is one of the main reasons people have such a hard time changing their habits. Systems are the processes that will lead you to your goal and setting up a system that will help you create a stable habit is vital if you want to make a change. People often think that the process of creating a habit is a linear experience, where it's actually an exponential one. If you've ever tried to create a new habit, you've probably experienced the difficulty of doing it consistently at the start. That's because you're in the "valley of disappointment" and don't feel the full benefits of the results yet.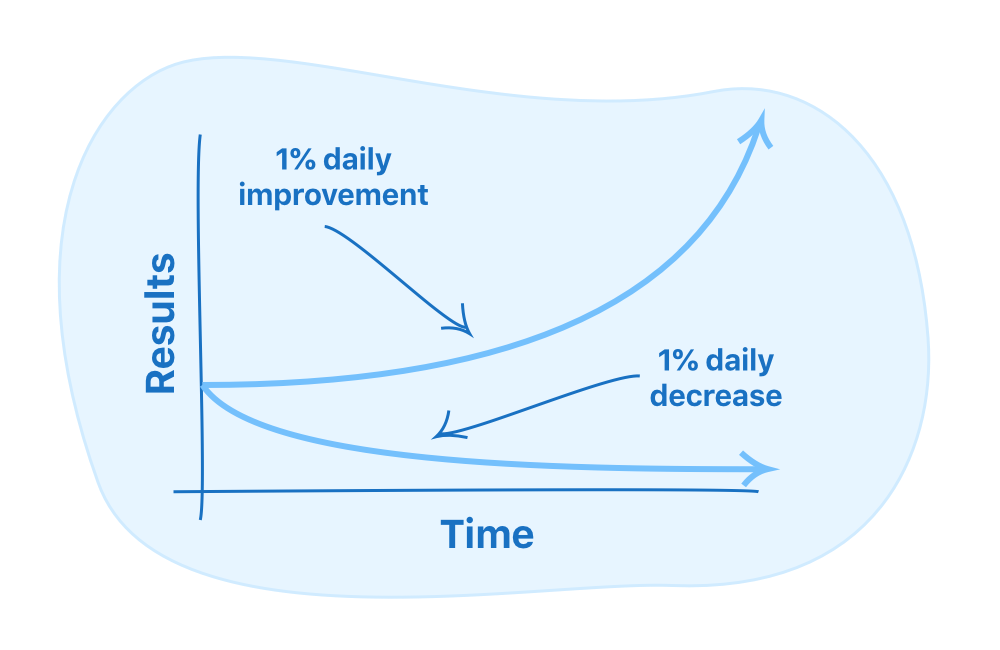 There's a world of difference between one percent better or worse each day
Becoming one percent better at something each day doesn't sound like a lot, but that one percent compounds over time and becomes exponential growth. Becoming one percent worse at something each day has a similar effect in the opposite direction. That's why when you're trying to create a new habit, all your focus should be on doing that habit as much as possible. In other words, it's quantity over quality. It's better to meditate 10 minutes every day than 1 hour at the end of the week if you want to get into the habit of meditating.
Doing habits one after another
One little trick you can use to lure yourself into doing your habits is to stack them up against each other. For example, you could have a morning routine, where you'd brush your teeth, and after that, you'd prepare your lunch, and after that, you'd meditate for 10 minutes. Finishing one habit will often give you a kick that will make you want to start another.
The Goldilocks rule
When setting up the habit you want to build, make sure to think about the Goldilocks rule. It's a rule, or guideline, that describes the sweet spot for human activity. In a nutshell, it states that if people are too bored or too challenge by what they're doing, they not as likely to do it. In other words, when starting out a new habit, you don't want to set the bar too high or too low.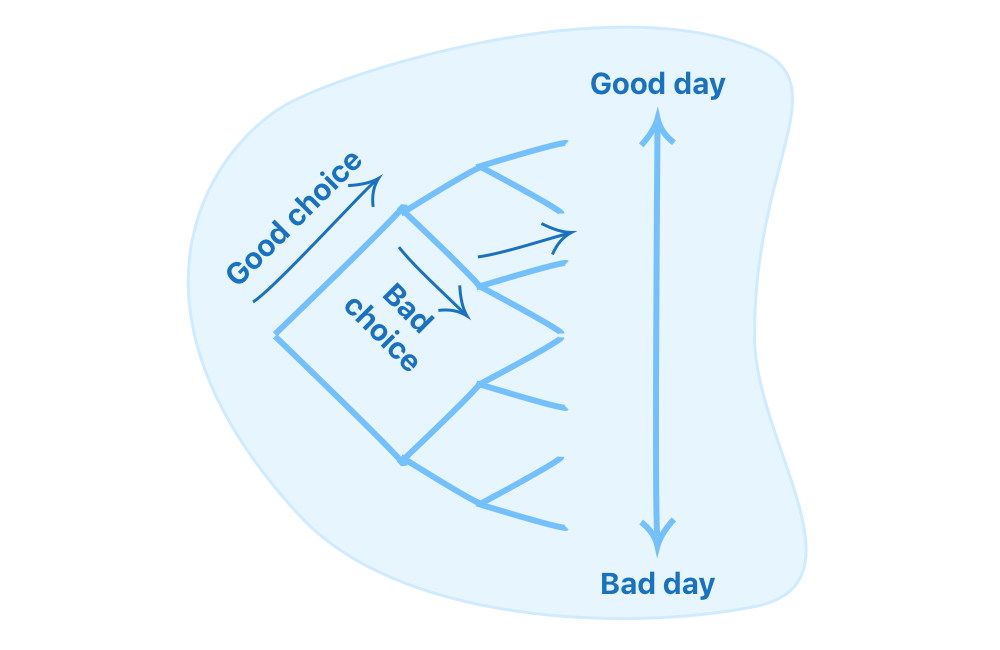 A good day often starts with a few vital decisions
The US Marines are taught to make their bed every morning. This might seem like a silly thing to spend time on, but they've implemented this habit for a very good reason. Whether your day becomes a good day or a bad day often comes back to a few vital decisions at the start of the day. You can look upon it as a decision-tree that grows larger as the day passes. Making the right decisions at the beginning of the day will not only give you a headstart making that day a good day, but it will also give you the kick you need to keep making the right decisions during the rest of the day.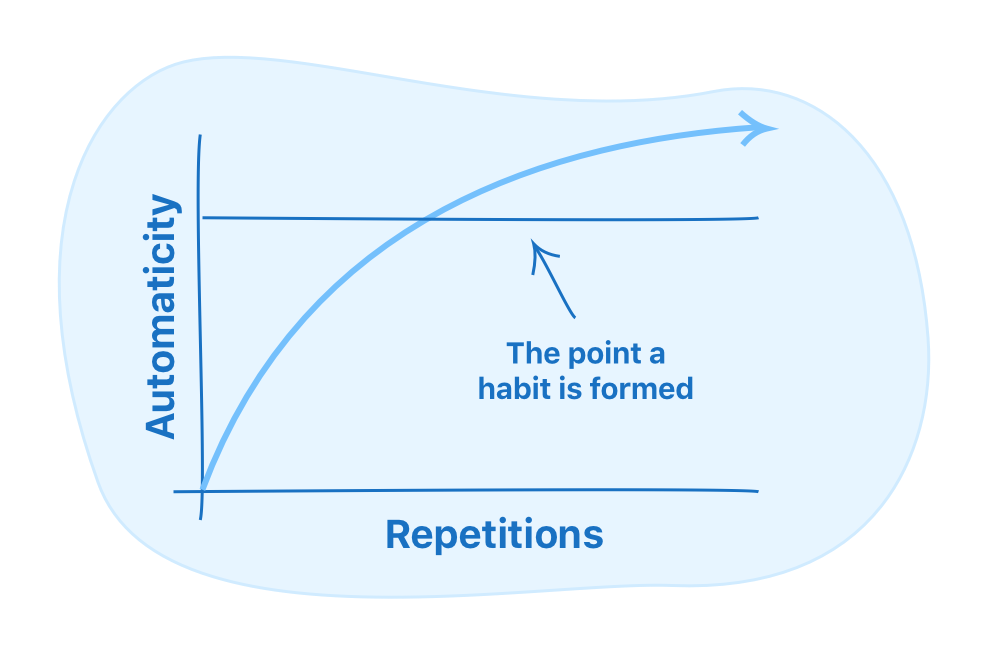 A habit isn't formed in a day
On paper, you might form a habit from one day to another, but in reality, it takes time to form a new habit. When an action becomes so automatic for you that you don't really give it any thought before doing it, then it's a habit. Getting to that point of automaticity is something you build up by doing that particular action again and again. Once you've done that action enough times, it becomes a habit. You can do things like creating a dynamic wallpaper for Mac from Dynamic Wallpaper Club to keep track of your day. A dynamic wallpaper can help you with your habits by reminding you about the time throughout the day in a non-intrusive manner.